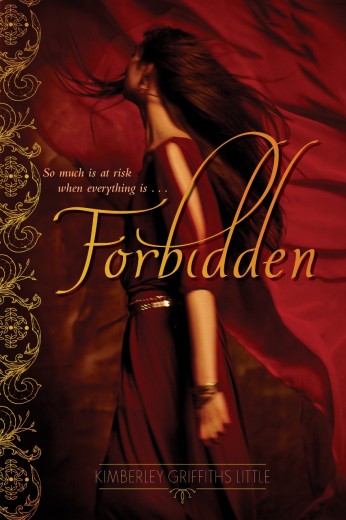 Title: Forbidden by Kimberley Griffiths Little
Read by: Josh, Dudley Branch
Summary: This book follows a girl named Jayden, expected to live up to her parents' wishes as well as restore her father's honor by marrying into a more powerful family. After an attack by an enemy tribe, her father loses most of the family's camels, and their survival depends on her arranged marriage to Horeb, the future leader of the tribe. The responsibility weighs heavily on her and eventually she loses much support following the death of her mother and the betrayal of her sister. After she witnesses Horeb murdering the current leader of the tribe, Jayden is forced to flee the safety of her home with Kadesh, a young man who has been taken in by her family, and takes up the search to find her mother's lost baby.
Genre/Subgenre: Fantasy
Standalone/Series: First book in a projected trilogy
Length: 389 pages
Personal Thoughts:
I thought this book brought a unique perspective to the heroine's coming of age and making realistic decisions. Whenever Jayden made a move, it didn't seem smart but it didn't seem dumb, either, because the outcome was often affected by outside forces beyond her control. Jayden is learning about the gray areas of life; she discovers that the answer is often neither yes nor no, but maybe. Forming and breaking ties as more and more she sees that standing on her own two feet means abandoning a lot of what she knows: her tradition, family, and ultimately her ignorance of the world beyond. This story challenges the basis of control and belief that ties characters to what they are and how they react to hardliner decisions for their survival and for their needs. Often Jayden sought out the advice of the women in her camp, until one day she saw that respect and face aren't always a reflection of character. Horeb proved lacking in chivalry and hid a craven, often twisted outlook for others, but ended up commanding his people's trust and their love. As it were his blunders freed her to do what she had to do, commit herself to a love that was mutual.
I don't think I've ever read a book like this one before. I give Forbidden a solid 8.5 out of ten and I would recommend it to fans of the Seven Realms series by Cinda Williams Chima.
Looking to borrow a book mentioned in this post? These links will take you to our catalog:
Forbidden by Kimberley Griffiths Little
The Seven Realms series by Cinda Williams Chima
Need a library card? Wondering how long you can borrow these books? Borrowing and Circulation information can be found here.
* "Curl Up & Read" posts book reviews by librarians and teens like you on the first Friday of every month. If you're a teen and you're interested in having a book review posted on the Teen Blog, please email vkovenmatasy (at) bpl (dot) org and pitch your idea. We might even be able to hook you up with an Advance Reader's Copy of something coming out soon, so you can really be ahead of the crowd!