The Arts Department consists of the Fine Arts, Architecture, Music, and Prints & Photographs. So what on earth have we been doing in the seven+ months the building has been closed? Here are a few things Arts staff members have been able to work on amidst quarantine and now, at the trial reopening of the Department this week.
Working Remotely
Staff has all been able to access our files through the BPL's secure VPN, and we've used Microsoft Teams to meet "face to face" on a regular basis.
New Staff
The Arts Department has been able to take on 3 new staff members in the midst of the quarantine! A very strange start to a new job, both the new Curator of Music and Lead Archivist are eager to get in the building and actually learn to navigate the physical space. This is not only for their own orientation, it is also their introduction to the Special Collections in the Arts.
Inventory
To help with inventory, staff have been working remotely with access to all our old digital files. It has been a priority for us to gather, compile, edit, and cross-check the information we have available on our archival collections and architectural drawings. These inventories of collections will help the staff track all the material they manage. Inventories will also provide the content to be ingested by a new database system.
Databases 
Most institutions are now using either all access or proprietarysoftware databases to make the tracing and location of artworks even easier. We have been building our own version, with an eye toward a more formal database setup. This way, we are able to test out different searching scenarios to make sure this works easily for staff, and eventually the public. 
Digitization
We are working to perfect our digitization workflow. Many projects are on deck for the scanners, including images from the Boston Herald Traveler, and all publicly displayed artwork at the Central Library in Copley Square.
With a fully staffed department, this is an exciting time for us. We're able to critically rethink old service models and come up with strategic ways to make our collections and services more easily available to the public. We are delighted to be able to do so!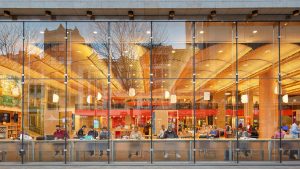 All images available on digitalcommonwealth.org