Building Blocks: Boston Stories from Urban Atlases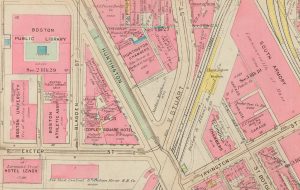 Central Library in Copley Square (Norman B. Leventhal Map & Education Center)
January 13, 2023 - August 19, 2023
In the period spanning the Civil War to World War II, Boston's urban fabric experienced profound changes.
Building Blocks, the latest exhibition at the Leventhal Map & Education Center, explores this extraordinary moment of transformation through the lens of the Center's urban atlas collection. Urban atlases are a collection of maps that are especially well-suited for discovering change by tracking small-scale interventions in the built environment. These atlases display property, street, utility, and building information—details which reflect their original purpose as maps for the fire insurance and real estate industries. The scale of these atlas plates (typically one inch on the map equals fifty feet in reality) brings viewers close to the scenes of blocks, streets, and buildings, and thus closer to the people whose stories made these spaces into vibrant neighborhoods. Beyond the stories narrated in this exhibition, the rich details of the atlases hint at thousands, or even millions, of others. From the perspective of these pages, perhaps it's not so difficult to imagine one's own story in a rapidly developing city during a moment steeped in change.
Free to all visitors. For open hours, visit the Map Center's website.
Becoming Boston: Eight Moments in the Geography of a Changing City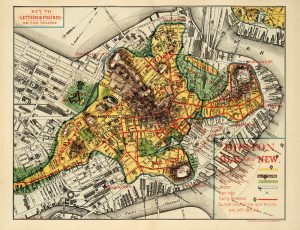 Central Library in Copley Square (Norman B. Leventhal Map & Education Center)
Maps trace out the complicated history of places, and we can use them to document geography in much the same way that we can use diaries and letters to document biography. In the eight cases of this permanent exhibition at the Leventhal Map and Education Center, we follow the changing spatial forms of the place we now call Boston—from before the landscape carried that name all the way through the struggles, clashes, and dreams that continue to reshape the city today. These maps don't merely depict facts about how the city looked at different moments in its history. Instead, they invite us to contemplate how geographic forces, both natural and human, have constructed the physical and social world around us, through large and small transformations that have transpired over many centuries.
Free to all visitors. For open hours, visit the Map Center's website.
Central Library in Copley Square (Special Collections Department)
With the opening of our renovated Special Collections department, new display cases in the lobby feature a selection of original objects across collecting areas that highlight the work of our staff to acquire, preserve, describe, and interpret BPL special collections.
Patrons are welcome to experience and engage with this display in the Special Collections lobby from 9:30 am - 4:30 pm, Tuesday - Friday. Inside the library, we are located on the 4th floor of the Boylston Street Building. Take the Glass Elevator near the Boylston entrance to "3U."

Patrick Maloney: The Big Shift
Hyde Park Branch Library
April 1, 2023 - June 30, 2023
Organized by Artists-at-Large, Patrick Maloney: The Big Shift will be on display April 1 - June 30, 2023.
The Big Shift features a collection of recent works from an exhibit planned by Patrick Maloney before his untimely passing in December 2022.
Christine Brown: Motherhood is Perennial
Jamaica Plain Branch Library
May 4, 2023 - June 28, 2023
The Jamaica Plain Branch Library is pleased to continue their rotating art program, supported by The Friends of the Jamaica Plain Branch of the Boston Public Library in partnership with Uforge. For late spring, we present a selection of textile works by Worcester-based quilter Christine Brown.
A multidisciplinary artist and educator, Brown credits her sewing skills to the local 4H club, an experience which led to her commitment to teaching sewing to the next generation of artists through lessons and workshops. Her new body of work on view titled Motherhood is Perennial explores the quilt as an object that provides warmth and comfort, similar to the ways a mother does. Saved and mended through generations, quilts transform as they age, and gain personality through their owners. As the artist notes, "They keep us warm and comfort us. Utilitarian and functional, they are often overlooked as objects with little value. Yet, throughout time, they are ever present, ever faithful." Themes of regeneration, pruning, and consistent growth no matter the season are apparent in her vibrant designs, featuring floral motifs representing the mother and daughter figures in her life. Incorporating a combination of Modernist and more traditional visual styles, each of Brown's works is a unique, tactile assemblage of color, shape, and material, as intricate as the women who inspired her.