Becoming Boston: Eight Moments in the Geography of a Changing City
Central Library in Copley Square (Norman B. Leventhal Map & Education Center)
January 13, 2023 (ongoing)
Maps trace out the complicated history of places, and we can use them to document geography in much the same way that we can use diaries and letters to document biography. In the eight cases of this permanent exhibition at the Leventhal Map and Education Center, we follow the changing spatial forms of the place we now call Boston—from before the landscape carried that name all the way through the struggles, clashes, and dreams that continue to reshape the city today. These maps don't merely depict facts about how the city looked at different moments in its history. Instead, they invite us to contemplate how geographic forces, both natural and human, have constructed the physical and social world around us, through large and small transformations that have transpired over many centuries.
Free to all visitors. For open hours, visit the Map Center's website.
Building Blocks: Boston Stories from Urban Atlases
Central Library in Copley Square (Norman B. Leventhal Map & Education Center)
January 13, 2023 - August 19, 2023
In the period spanning the Civil War to World War II, Boston's urban fabric experienced profound changes.
Building Blocks, the latest exhibition at the Leventhal Map & Education Center, explores this extraordinary moment of transformation through the lens of the Center's urban atlas collection. Urban atlases are a collection of maps that are especially well-suited for discovering change by tracking small-scale interventions in the built environment. These atlases display property, street, utility, and building information—details which reflect their original purpose as maps for the fire insurance and real estate industries. The scale of these atlas plates (typically one inch on the map equals fifty feet in reality) brings viewers close to the scenes of blocks, streets, and buildings, and thus closer to the people whose stories made these spaces into vibrant neighborhoods. Beyond the stories narrated in this exhibition, the rich details of the atlases hint at thousands, or even millions, of others. From the perspective of these pages, perhaps it's not so difficult to imagine one's own story in a rapidly developing city during a moment steeped in change.
Free to all visitors. For open hours, visit the Map Center's website.
Quenby Bucklaew: Winter Landscapes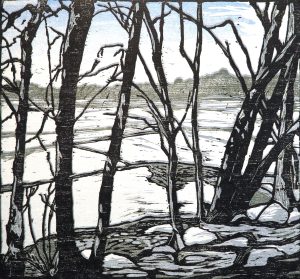 Jamaica Plain Branch Library
January 5, 2023 - March 1, 2023
The Jamaica Plain Branch Library is pleased to continue their rotating art program, supported by The Friends of the Jamaica Plain Branch of the Boston Public Library in partnership with Uforge. To bring in the new year, the library presents a solo exhibition by Jamaica Plain printmaker Quenby Bucklaew.
Often inspired by her world travels, Bucklaew's work is characterized by bold shapes, limited use of color, and tactile qualities resulting from a mixture of printmaking techniques. She seeks to capture on paper her own ephemeral impressions of place and time, as well as the emotional impact they can have. To achieve this, her practice "often explores variations on a visual theme in order to capture just the right mood, or to reflect our own changing perspectives." The pieces on view in Winter Landscapes represent both travel-inspired prints from 2019 as well as new pieces created since the pandemic when she found inspiration in her own neighborhood, exploring the natural beauty of Jamaica Plain–especially Jamaica Pond. These multilayered compositions feature stark, snowy expanses punctuated by spindly tree branches, blurry city skylines, and the calm, reflective spread of the pond, all marked by the textured detail of woodblock and collagraph printing. The artist will also display some of her printing plates and blocks along with the finished works, offering insight into her process and stylistic approach.
At 91: Paintings by Anne Quinlan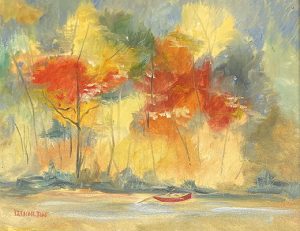 Hyde Park Branch Library
January 15, 2023 - March 31, 2023
Organized by Artists-at-Large, At 91: Paintings by Anne Quinlan will be on display from January 15-March 31, 2023. "Quinlan excels at capturing the moments we wish to bottle up and store for a lifetime – an afternoon on a windswept beach; a visit from a striking cardinal; cotton candy sky at sunset; a wink from a favorite four-legged friend," writes longtime collector Brittany Caniff Kimball. At 91: Paintings by Anne Quinlan showcases works from throughout the artist's career.