More or Less in Common: Environment and Justice in the Human Landscape
Central Library in Copley Square (Norman B. Leventhal Map & Education Center)
March 18, 2022 - December 28, 2022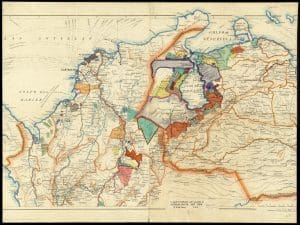 What kinds of images come to mind when you think about the environment? Trees, water, green landscapes, and scenic vistas? But what about people—communities, housing, roads, neighborhoods, cities, schools, and factories? In More or Less in Common, we take a look at how questions of social justice and injustice are essential topics to confront when trying to understand the human landscape. Through maps as well as photographs, images, and data visualizations, this exhibition encourages you to confront stories about how environmental conditions have sometimes served to worsen inequalities along lines of social division. At the same time, our shared environment offers the possibility to bring people together across differences and the inspiration to forge new kinds of common action.
Southie Then and Now - A Neighborhood Transformed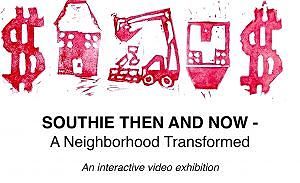 East Boston (August 2, 2022 - August 31, 2022)
Mattapan (September 1, 2022 - September 30, 2022)
South Boston (October 1, 2022 - October 31, 2022)
This exhibition reveals South Boston's transformation, from a mostly low-to-moderate income community with industrial areas, to today's gentrification with luxury condos and a radically shifted neighborhood identity.
In this interactive exhibition from Jared Katsiane, a split screen video features clips from eight Hollywood films shot in South Boston from 1968 to 2015 and video footage from 2021. The 2021 clips replicate each shot from the Hollywood films, highlighting the contrast between the past and present Southie landscape.
The exhibition includes a paper map of South Boston, with locations depicted in the films, and listings of housing organizations and other community resources. Viewers can use color markers to write and draw their stories of community change on the exhibition's fabric wall. At each exhibition location, community forums with guest speakers provide opportunities to discuss the challenges of community growth, including maintaining affordable housing.
The Time Project: A Group Exhibition
Connolly Branch
September 1, 2022 - October 31, 2022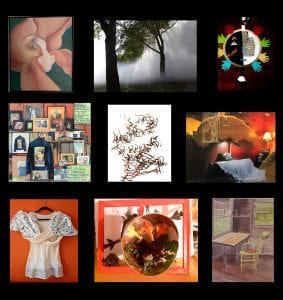 Ten seasoned and established artists, all women, came together in August 2009 to create the Time Project.
The Time Project is Kay Dolezal, Plum Kennard, Marnie Sinclair, Rachel Wood, Ruth Ginsberg, Place, Beatrice Kujichagulia Greene, Joan Schwartz, Gail Jerauld Bos, Sandie Fenton, and Tamar Etingen (not participating but very much valued).
The exhibition is hung on the main floor of the branch. It is proudly co-coordinated with community member Gloria Carrigg.
Eli Portman: A City in 7 Years
Jamaica Plain Branch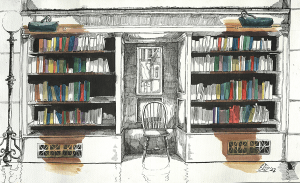 September 2, 2022 - October 28, 2022
Eli Portman specializes in detailed, studied renderings of cities and landscapes in ink and watercolor, exploring what he describes as "the dissonance between perceived unique individual solitude in a crowded environment, and the commonness and sameness of such feelings." Often drawn from his own photographs, his images of familiar Boston landmarks like the Boston Public Library and the Gardner Museum tap into shared experiences of those who live in or visit the city, while offering quiet, reflective interpretations of these environments. Soft washes of color and subtle effects of light are often paired with thin linework creating sketchy shadows or intricate details. As the artist states, "I manipulate the openness and tightness of visual spaces and interiors to reflect the claustrophobia of society's open spaces," offering a view of urban architecture simultaneously personal and universal.
Tod Gaines: What the Hubble Didn't See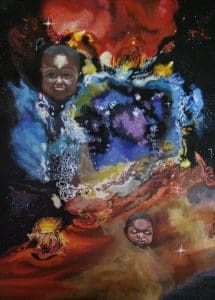 Egleston Square Branch
September 17, 2022 - October 19, 2022
Early in 2017 after watching the assault on the Arts and Sciences, Tod Gaines spent eight months creating this collection of paintings entitled What the Hubble Didn't See. With a focus on children, he has been showing this collection in the Boston Public Libraries hoping to catch the eyes and imaginations of parents and children. The Hubble Space Telescope only takes black‐and‐white images. But by analyzing the wavelengths of light that different elements emit in space, scientist turn dull pictures of our universe into colorful masterpieces. Using those enhanced photos from the Hubble telescope program, Gaines reproduced them on canvas using acrylic paints. Hidden in his version of those Hubble photos are unique portraits of children from all over the world, children whose world would be dramatically changed with the absence of the arts and sciences.