More or Less in Common: Environment and Justice in the Human Landscape
Central Library in Copley Square (Norman B. Leventhal Map & Education Center)
March 18, 2022 - December 28, 2022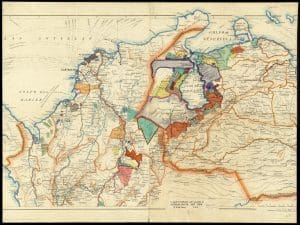 What kinds of images come to mind when you think about the environment? Trees, water, green landscapes, and scenic vistas? But what about people—communities, housing, roads, neighborhoods, cities, schools, and factories? In More or Less in Common, we take a look at how questions of social justice and injustice are essential topics to confront when trying to understand the human landscape. Through maps as well as photographs, images, and data visualizations, this exhibition encourages you to confront stories about how environmental conditions have sometimes served to worsen inequalities along lines of social division. At the same time, our shared environment offers the possibility to bring people together across differences and the inspiration to forge new kinds of common action.
Central Library in Copley Square (Norman B. Leventhal Map & Education Center)
December 1, 2022 - December 28, 2022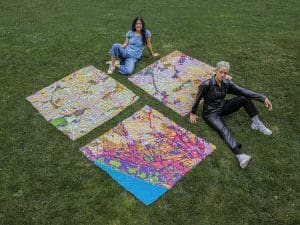 A pop-up exhibition by Amanda Ugorji and Sophie Weston Chien of the local design collaborative just practice.
Soft City will be on display in the Map Center's gallery from December 1 to December 28 to accompany our ongoing exhibition, More or Less in Common: Environment and Justice in the Human Landscape. According to the artists, "Soft City is a large-scale textile series that maps the urban fabric of Black neighborhoods in the Boston area. The tapestries map historic (redlined) and contemporary Black neighborhoods, including Roxbury, Dorchester, and East Cambridge. The information mapped tells the story of the past, present and future of Black residents, and the ecological resilience of the neighborhoods they live in. Hard (impervious) and soft (pervious) land uses are codified using colors with overlays of Black residents and flood zones on the tapestries. The softness and materiality of tufting interrogates the traditional top-down approach to space planning and management in the city and offers new tactile ways to explore our understanding of urban space, at all ages."
Soft City was supported by MIT Council for the Arts Special. A special thank you to Emma Werowinski, Mackinley Wang-Xu, James Brice and Sir Sahil Mohan for your contributions.
Jamaica Plain Branch Library
November 4, 2022 - January 4, 2023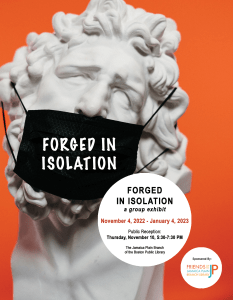 The Jamaica Plain Branch Library is pleased to continue their rotating art program, supported by The Friends of the Jamaica Plain Branch of the Boston Public Library in partnership with Uforge. To close out 2022, the library presents a group exhibition of 24 New England-based artists.
March 2020 disrupted our daily lives and left us to navigate the feelings of loneliness and confinement. As artists, this was exceptionally challenging taking a toll on our mental health while our resolve to create waned. As time went on, the constraints of life under lockdown eased up for some and we began to venture forward. Artists in this exhibit pay tribute to their personal determination to overcome a challenging situation through art.