Central Library in Copley Square (Special Collections Department)
This Just In highlights a selection of recent acquisitions that have found their place within BPL's collections and illuminate the dynamic nature of creativity and the narratives that shape our world. Between 2019 and 2023, Special Collections and the Leventhal Map & Education Center made over 200 acquisitions through donations and purchases. Richly diverse in their origins and focus, each acquisition enhances public understanding of our past and current cultural lives.
Patrons are welcome to experience and engage with this display in the Special Collections lobby from 9:30 am - 4:30 pm, Tuesday - Friday. Inside the library, we are located on the 4th floor of the Boylston Street Building. Take the Glass Elevator near the Boylston entrance to "3U."
Teen Central Permanent Rotating Exhibit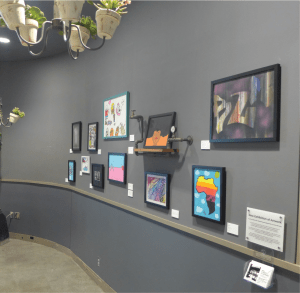 Central Library in Copley Square (Teen Central)
This exhibition is in partnership with the Department of Youth Services (DYS) and the DYS Art Showcase program.
Since 2008, the BPL and DYS Metro Region staff have partnered to facilitate monthly library visits to DYS Metro.
This presentation of artwork represents a selection of the work from the annual DYS Art Showcase, which highlights and promotes the talents of young people from across Massachusetts. Each year, BPL Youth Services will select and purchase art from the Art Showcase for display in a permanent, rotating collection at Teen Central. The BPL is proud to support these artists and all at DYS.
For more information, please contact BPL Teen Outreach Librarian Maty Cropley at mcropley@bpl.org.
صنع في أمريكا (Made in USA)

Central Library in Copley Square (Gallery J; the display cases between DeFerrari Hall and Tech Central)
صنع في أمريكا (Made in USA) questions ideas of American nationalism, borders and pride, and the power of creation for healing and transformation. Reflecting on the historical and ongoing violence deeply rooted in this country, it asks: What will we continue to grow and make here? Do we have the courage to transform and stitch a new tapestry of collective liberation? The exhibition features Feda Eid's صنع في أمريكا (Made in USA) series alongside work by a cohort of young artists from Boston: Jacob DePalm, Elian Feliz, Hajar El Ayoubi, Rose Gelin, and Marie Liza Manigat, as a part of the The Eliot School's Artist in Residence and Teen Bridge programs.
Painterly Considerations: works by marypaz
Hyde Park Branch Library
October 1, 2023 - December 31, 2023
marypaz has been making art since she was a child. She received her BFA cum laude from Syracuse University with a major in painting and has continued to explore her craft over the decades. Although her main focus is on her abstract work, marypaz enjoys "observing through drawing" and has done numerous studies of favorite objects and people as well as commissioned work in pencil, charcoal, pastels, and watercolor. marypaz's drawings and paintings are in collections in New York, New Jersey, Illinois, Florida, Texas and Massachusetts.
Art Exhibition - Michelle Feinberg: Kaleidoscope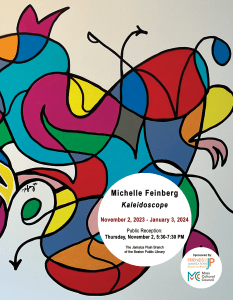 Jamaica Plain Branch Library
November 2, 2023 - January 3, 2024
The Jamaica Plain Branch Library, in collaboration with The Friends of the Jamaica Plain Branch of the Boston Public Library and Uforge, is delighted to announce the final installment of its annual rotating art program for 2023. In a celebration of abstract art, the library proudly presents "Michelle Feinberg: Kaleidoscope," featuring the work of Needham-based artist Michelle Lander Feinberg.
Michelle Lander Feinberg, an abstract artist hailing from Massachusetts, is celebrated for her fearless exploration of color, texture, and form. Her captivating artworks have found homes in galleries, stores, restaurants, hospitals, libraries, and offices worldwide. Beyond her artistic endeavors, Michelle's journey is marked by acts of courage, such as kidney donation and fire walking, symbolizing her commitment to pushing boundaries and embracing life's challenges.
In her artist statement, Michelle Feinberg's work becomes a testament to her unyielding passion for bold, expressive color and the boundless potential of abstract art. Each of her creations radiates the profound emotional impact of color, evoking rich moods and atmospheres. She navigates her artistic process with intuition and spontaneity, utilizing bold, vibrant hues and expressive brushstrokes to compose dynamic, attention-grabbing pieces.
Feinberg's art delves into the intricate interplay of color and space, delving deep into the exploration of depth and dimension through layers and juxtaposition. Her paintings extend an invitation to experience the sheer joy and vitality of life, leaving viewers with a palpable sense of excitement and wonder. For the artist, abstract painting serves as a meditative practice, forging a connection with the universal creative energy that unites us all.
Michelle Feinberg shares, "My journey into daily painting began as a means to cope with the grief of losing my brother. In the process, I discovered a profound connection with him through my art, which has been instrumental in my healing journey." Her art, therefore, becomes a profound expression of personal growth and healing, reflecting her indomitable spirit.
Michelle Feinberg: Kaleidoscope is on view from November 2, 2023 – January 3, 2024, with a reception to be held on Thursday, November 2, 2023, 5:30 PM-7:30 PM.  The exhibition space is located on the lower level.
More information about Michelle Feinberg and her work can be found on her website. Additional information is also available on the Friends of the Jamaica Plain Branch Library website.