Art & Architecture Tours at the Central Library
Updated October 2022
We are revising a limited schedule of free public Art & Architecture tours starting October 13, 2022. Please see the "Public Tours" section for more information and a schedule. Reservations are not required. Please note that individual parties larger than five people are asked to refrain from joining these public tours so as not to overcrowd the groups.
Information on private tour requests will become available soon.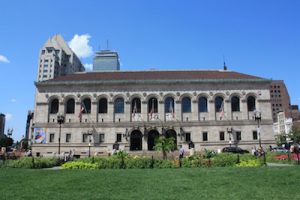 The landmark Central Library in Copley Square features notable architecture spanning three centuries, as well as treasured art and decorative installations within. A summary of key points of interest can be found on our Art & Architecture page.
We are resuming a limited schedule of public Art & Architecture tours at the following times:
Mondays at 2 pm
Thursdays at 6 pm
Fridays at 11 am

Tours last approximately one hour and start in the McKim Building Vestibule, just through the Dartmouth Street entrance. Group sizes will be limited and are subject to guide availability.
Unauthorized guides are not permitted to lead tours within the library. When planning your visit, please make note of days when the library will be closed due to holidays; inclement weather may also affect opening hours.