Art & Architecture at the Central Library
Boston Public Library opened its first location in a former two-room schoolhouse in 1854 and relocated to its first purpose-built location in 1858 on the east end of Boylston Street. In subsequent decades, the library's growing services and the city's burgeoning population demanded an even larger central location. In response, the city granted a new parcel of land, created by Boston's Back Bay infill project, for the construction of the third and current Central Library.
At the cornerstone-laying ceremony of the Boston Public Library's Central Library in 1888, Dr. Oliver Wendell Holmes proclaimed before the gathered crowd that "This palace is the people's own." In designing the new building, architect Charles Follen McKim and library trustees sought to create a veritable "palace" to inspire and elevate its public. BPL's McKim building, opened in 1895, is considered one of the finest examples of 19th-century architecture in America; the adjoining Boylston Street Building, opened in 1972, is newly renovated to provide leading offerings in 21st-century library services.
McKim and Boylston Street Building Points of Interest
Constructed between 1888 & 1895, the McKim Building at the Central Library in Copley Square is the masterpiece of its architect & namesake.
First opened to the public in 1972, the Boylston Street Building underwent a major restoration effort four decades later, completed in 2016.
Art & Architecture Virtual Booklet
Explore the built heritage of the Central Library in Copley Square with our virtual Art & Architecture booklet, funded by Bank of America.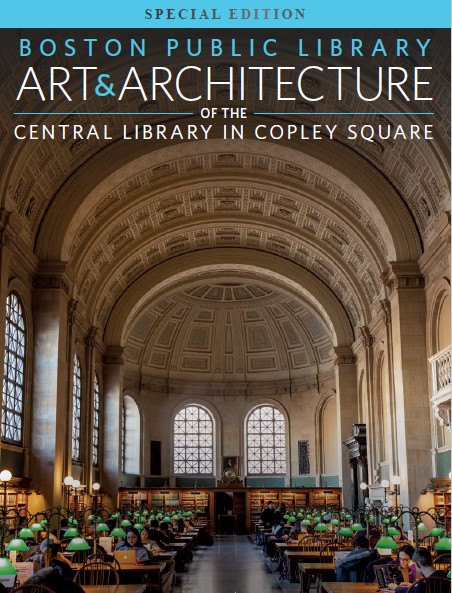 Take Flight at the Central Library
Take flight with this brand new footage, featuring sweeping shots of Copley Square and the Boston Public Library's 1895 McKim Building, a National Historic Landmark in the heart of the city's Back Bay neighborhood. This drone sequence was captured by the team at Above Summit, and offers a unique series of perspectives on the art and architecture of the beloved Central Library in Copley Square.
BPL and Above Summit are excited to offer this teaser for a larger project, which includes a 360-degree interactive virtual experience, as well as a narrative tour for patrons near and far to enjoy and learn more about the history and design of this incredible building.
This immersive filming has been made possible by the Boston Public Library Fund with the generous support of Bank of America.