James Reese Europe was a composer and bandleader of the early 20th century who helped move ragtime music into jazz and also assisted in the popularization of social dancing for all social classes. He was born in Mobile, Alabama, on February 22, 1880, and was the fourth of five children. When he was 10 years old, his family moved to Washington, D.C., and all five children got formal musical instruction. Europe studied piano, violin, and composition as a teenager. One of his violin teachers was Joseph Douglass, grandson of Frederick Douglass. In 1894, at the age of 14, he gave his first public recital in a violin duet with his sister Mary. That same year he won a prize for composition.
In 1902 after the death of his father he moved to New York City. New York had become the place to go for Black professional music life during this time period, and the growing popularity of ragtime, popular song, and social dances provided opportunities for performers and writers alike. He continued his studies in music with the organist Melville Charlton and the singer/composer Henry T. Burleigh. His first real professional break in the city came in 1904, when he was brought in as the director of the orchestra and chorus of a musical farce called A Trip to Africa. While in New York, he got to work with such notable Black entertainers and musicians as Bob Cole, J. Rosamond Johnson, George Walker, Bert Williams, and Sherman Dudley. He also started a new club that was a combination social club and booking agency for Black musicians called the Clef Club. As part of this club Europe put together a 100 piece symphony orchestra that was dedicated to the performance of music by Black composers. In May of 1912, he brought a group of 125 instrumentalists and singers to Carnegie Hall for a concert called A Concert of Negro Music that featured works by Will Marion Cook, Harry T. Burleigh, J. Rosamond Johnson, William Tyers, Samuel Coleridge-Taylor, and himself. It was the first concert by a Black orchestra at a famous piece of the white musical establishment.
In the time that the Clef Club was founded, ragtime dances such as the grizzly bear, the fox trot, and the bunny hug and more were popular among some groups. However, the larger more conservative American population found these dances vulgar, and they were often banned from being danced in dance halls and even whole towns. Enter Irene and Vernon Castle, a dance couple that made these dances acceptable to the larger public. James Reese Europe was hired as their musical director in 1913 when the Castles opened their dance school to upper-class patrons in New York City. Called Castle House, this school was located on E. 46th Street in Manhattan. For the next two years, Europe's Society Orchestra performed with the Castles at Castle House, Castles in the Air (a rooftop dancefloor on 44th Street), Castles on the Sea on Long Island, and on their tour of the Eastern United States. Europe and his Society Orchestra wrote and recorded several works for the Castles, including the Castle House Rag, Castle Lame Duck, and Castle Walk.
One of Europe's best-known songs was "Ballin' the Jack" from 1913. Many recordings of it have been made over the years, including this early recording from 1914 and this rather bizarre mambo-ized version from 1954. It even featured in the 1986 movie Haunted Honeymoon, as performed by Dom Deluise and Gilda Radner. The library owns a copy of the 1913 sheet music of the song, which was published by Smith and Burris and strangely did not give credit to James Reese Europe.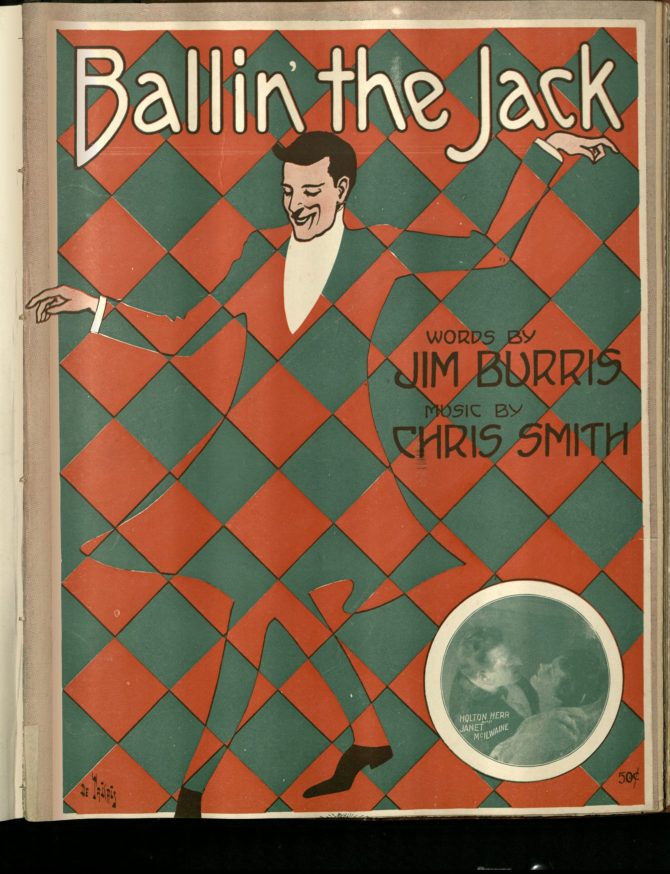 In the fall of 1916, James Reese Europe enlisted in the 15th Regiment of the New York National Guard. This was the first Black regiment in the state of New York. In 1917, the 15th Regiment was sent to France and assigned to the French Army. There, Europe held two assignments: headmaster of the regiment's brass band, and command of a machine gun company. The 15th Regiment was given the nickname "Hellfighters," and you can listen to the band's recording of Europe's "On Patrol in No Man's Land" here.
On their return to the United States after the war, the 15th Regiment and its band were given a welcome home parade on Fifth Avenue in New York City on February 17, 1919. Europe was being hailed in newspapers as America's "Jazz King," and signed a second recording contract. The band then went on a national tour. On May 9, 1919, the band performed in Boston at Mechanics' Hall. Europe had given some criticism backstage during the intermission to one of his drummers, Herbert Wright, who then stabbed Reese in the neck with a pen knife. Europe didn't think it was serious and gave the musicians instructions to continue the show.
According to the musician Noble Sissle, Europe told him, "Sissle, don't forget to have the band down before the State House at 9 in the morning. I am going to the hospital, and I will have my wound dressed and I will be at the Commons in the morning, in time to conduct the band. See that the rest of the program is gone through with." He was then taken to a local hospital and died there several hours later. Herbert Wright was sentenced to 15 years in prison but served only eight due to good behavior. 
Because the loss of James Reese Europe was felt so keenly by New Yorkers, his funeral was to be a public one, the first one given to a Black American in that city. Thousands of people filed past his casket where it laid in state the morning of May 13, 1919, at Paris Undertakers at 131st Street. Just before 11:00 am, a funeral procession was led through the streets of Harlem. In the procession were automobiles carrying flowers from the Clef Club, Irene Castle Treman, and others. The hearse was preceded by a company of veterans from the 15th Regiment, and then followed a variety of soldiers and civilians, including the "famous 'Jimmy' Europe Jazz Band" with their instruments held silently by their sides. The funeral was held at St. Marks Episcopal Methodist Church, attended by Black and white mourners both. All seats were filled.
Books
Jazz; A History of the New York Scene

The Harlem Hellfighters' Great War

Recording
Printed Music
The Music of James Reese Europe

Other Material