Twenty-nine years.
Twenty-nine years is a staggering amount of time to spend on a single project.
But twenty-nine years is precisely how long artist John Singer Sargent (1856-1925) worked on "Triumph of Religion," his mural cycle at the Boston Public Library.  And, even after those twenty-nine years of work between 1890 and 1919, the cycle was left incomplete upon his unexpected death in 1925.
This autumn will mark the 100th anniversary of the final "Triumph" installation in 1919.  A century later, it's time that we once again give this extraordinary work its due. This post is the first of a series of blog entries designed to continue to tell the story of Sargent's masterwork.  It is our hope that the library murals may become more widely acknowledged as a pilgrimage for his admirers, and that we can help the public learn more about how the Sargent works on our walls are far from an historical footnote in the life of this prolific painter—rather, they are a leading thread in our understanding of this legendary artist. 
"Triumph of Religion" adorns the walls and ceilings of a vaulted, skylit chamber on the third floor of the McKim Building at the Central Library in Copley Square.  Spanning 84 feet in length and 23 feet in width, the murals are accessible either by elevator or via a long flight of Yorkshire sandstone steps. Both means transport patrons to the gallery with a sense of darkened anticipation, before the doors and stairs open to reveal a space bathed in the glow of gilded relief and warmed by rich color.
The idea of Sargent contributing murals to the new Central Library emerged in 1890 when he dined at The Players Club in New York with fellow creatives involved in the building project.  The group included library architect Charles Follen McKim and his partner Stanford White; sculptor Augustus Saint-Gaudens; and fellow ex-pat artist and BPL muralist Edwin Austin Abbey. It was at this dinner that Sargent agreed to the idea of decorating the vaulted space on the third floor of the building, which was reserved for the "Special Libraries." 
Like other painters approached by McKim and the Library's Board of Trustees, Sargent was given free rein in his choice of subject. While he first considered showing themes from Spanish literature, the artist landed on the idea of showing key moments from his study of Paganism, Judaism, and Christianity. Sargent's choice of theme was ambitious. As the story of these murals will reveal, it was also controversial. Why choose religious subjects as decoration for the walls of a public and secular building?
The project that emerged over twenty-nine years must be considered among John Singer Sargent's masterworks. Yet despite its initial glowing reception and a controversy that vaulted the murals into the public eye, until recently, the history of "Triumph" had been colored—or rather, discolored—with dubious preservation decisions and decades of neglect, leaving these murals comparatively forgotten through the end of the 20th century.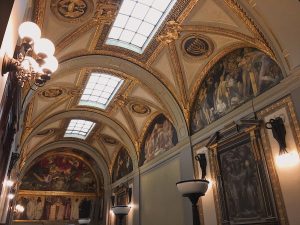 Fortunately, the past two decades have been kinder to Sargent's work. In 2003-2004, a team from Harvard's Straus Center for Conservation and Technical Studies undertook the mammoth task of conserving the mural cycle, honoring its initial effect and preserving it for future generations. There have been several notable works written about the murals, from Sally Promey's groundbreaking and compelling exploration of the cycle's religious symbolism, structure, and history in "Painting Religion in Public" to Narayan Khandekar, Gianfranco Pocobene, and Kate Smith's book on their "Creation and Restoration" as part of the Straus' project. More recently, Karen Corsano and Daniel Williman delved into the story of Sargent's memorialization of his late niece and World War I in "John Singer Sargent and His Muse: Painting Love and Loss."  I hope to give these and other excellent scholars their due throughout this series, as their research is invaluable to our understanding and interpretation of the murals today. 
John Singer Sargent's Triumph of Religion at the Boston Public Library