Victoria Woodhull (1838-1927) was an ardent campaigner for women's rights, an advocate for sexual freedom, and the first woman to run for president of the United States. Born Victoria Claflin in Homer, Ohio in 1838, she received very little formal education. At the age of fifteen, she married Dr. Canning Woodhull and had two children, Byron and Zula Maud. Woodhull divorced her husband in 1866 and married James Harvey Blood the same year. In 1868, the family, along with Victoria's sister, Tennessee Claflin, moved to New York City. The sisters became spiritual advisers to the wealthy railroad baron Cornelius Vanderbilt, who financed Woodhull, Claflin & Company, the first stock brokerage firm owned by women.
Using the money she made from the stock market, Woodhull founded Woodhull and Claflin's Weekly (1870-1876), one of the first female-published newspapers in the country. Radical in its mission, the Weekly promoted such causes as women's suffrage, labor reform, and spiritualism. In 1871, it published the first English translation of Karl Marx's Communist Manifesto.
Woodhull's interest in women's rights began in 1869 when she attended a female suffrage conference. In 1871, she became the first woman to deliver speech on women's right to vote before the House Judiciary Committee. There, she argued that the 14th and 15th amendments gave women the right to vote. This put her in a position of prominence with leading suffragettes Susan B. Anthony and Elizabeth Cady Stanton.
In 1870, Woodhull announced that she was a candidate for president. Financed by the money she made on Wall Street, she campaigned on such progressive issues as a voting rights for women, an eight-hour workday and the abolition of the death penalty. She was nominated for president by the Equal Rights Party (which she had helped organize) in 1872. Also in 1872, a story appeared in the Weekly about the extra-marital affair between the Rev. Henry Ward Beecher, who was the brother of Harriet Beecher Stowe, and Elizabeth Tilton. As a result, Woodhull was imprisoned for sending obscene material through the mail and was in jail the night of the election. How many votes she received is unknown.
After she divorced her second husband, Woodhull, Zula and Tennessee moved to England in August of 1877. In December she began giving lectures in London where she met John Biddulph Martin, whom she married in 1883. She died in Brenton Woods in 1927, never returning to the United States.
The BPL's Collection of Victoria Woodhull Martin's Correspondence  with John Biddulph Martin
The Boston Public Library holds over 400 letters between Woodhull and her third husband, John Biddulph Martin. The letters document their relationship and the changes in her thinking. Recurrent themes include her emotional and physical well-being, daily activities and social engagements, work on The Humanitarian, and her affection for her husband. The majority of John Martin's correspondence to his wife recounts his daily routine in Tewkesbury, news of his parents and other family members, and his love for her.
Our complete Victoria Woodhull Martin manuscript collection has been digitized and can be browsed and downloaded through Digital Commonwealth.  A finding aid for the collection is also available.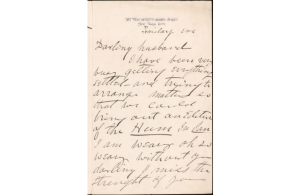 Letter from Victoria Woodhull Martin to John Biddulph Martin in which she writes about her work on "The Humanitarian."
For Further Reading
Suggestions for further reading on Victoria Woodhull Martin
American Lady of the Manor, Bredon's Norton