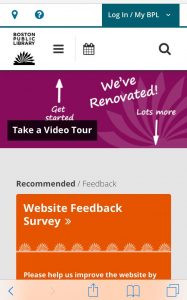 Final user testing is underway for Boston Public Library's new website that will launch on Monday, June 11, and a preview of the new mobile-friendly site can be accessed via https://www.bpl.org/ and from the home page of bpl.org. The user-focused website is optimized to ensure desired content is easily findable, and includes FAQs on a variety of topics and a vibrant home page with refreshed and dynamic content, including blogs by library staff.
"The new website design is reflective of the Boston Public Library brand as it is today – innovative, informative, dynamic, easy to use, and fun," said David Leonard, President of the Boston Public Library. "We invite all library patrons to visit the new site and explore our collections and services - our online presence and user experience is now significantly enhanced, contemporary, and fully compliant with accessibility standards."
A video tour is available on the new site for visitors, in addition to a survey that encourages feedback from users. Bibliocommons is both the new website platform vendor as well as the provider of the current catalog system, which helps ensure a completely integrated user experience across these key functions on the new website.
Features of the new bpl.org:
Commitment to Accessibility
The blogging platform gives a new way for expert staff voices inside the Library to be shared with the public on an ongoing basis, bringing its collections and programs to life. Blog subject matter includes: rare books conservation, literary fiction for adults, LGBTQ+ fiction, resources for caregivers and parents, BPL digital services projects, and more.
Superior search capabilities allow patrons to quickly connect to the content they want.
A dynamic home page design provides a platform for getting priority information about news, events, programs, collections updates, etc. to patrons in a streamlined way.
Mobile-friendly on any device
Integrated multi-lingual options
Boston Public Library will continue to rely on user input to grow its online presence and ensure all our offerings are responsive to ever more diverse populations of users. User testing of the new website began in late March with library staff members and expanded in May to the general public, including specific populations such as seniors and people with disabilities. Testing includes in-person conversations, usage on mobile devices, and an online survey.
About BOSTON PUBLIC LIBRARY
Boston Public Library provides educational, cultural and civic enrichment, free to all, for the residents of Boston, Massachusetts and beyond, through its collections, services, programs, and spaces. Established in 1848, the Boston Public Library is a pioneer of public library service in America. It was the first large free municipal library in the United States, the first public library to lend books, the first to have a branch library, and the first to have a children's room. As a City of Boston historic cultural institution, Boston Public Library today features a Central Library, twenty-five branches, a map center, business library, archival center; extensive special collections of rare books, manuscripts, photographs, and prints; and rich digital content and online services. The award-winning renovation of the Central Library in Copley Square, completed in 2016, together with new, renovated and historic branches, provide a transformed library for the next generation of users. Boston Public Library enriches lives, hosting thousands of free educational programs and exhibitions, and provides free library services online and in-person to millions of people each year.  To learn more, visit bpl.org.
###