Deposited with the Boston Public Library in 1894, the John Adams Library includes over 3,000 volumes collected by the second president during his lifetime (1735-1826) as well as many volumes donated by members of his family. One of the greatest private collections of its day, the Adams Library remains one of the largest colonial American libraries still intact.
This remarkable collection represents the intellectual tastes of an influential thinker, writer, and political philosopher who helped shape the Constitution of the United States and drafted the Massachusetts Constitution, the oldest functioning written constitution in the world. John Adams's library spans the fields of classics, literature, history, politics, government, philosophy, religion, law, science, mathematics, medicine, agriculture, language and linguistics, economics, and travel. The collection is of particular interest to scholars and historians because Adams recorded thousands of interpretive and critical manuscript annotations in the margins of hundreds of his books.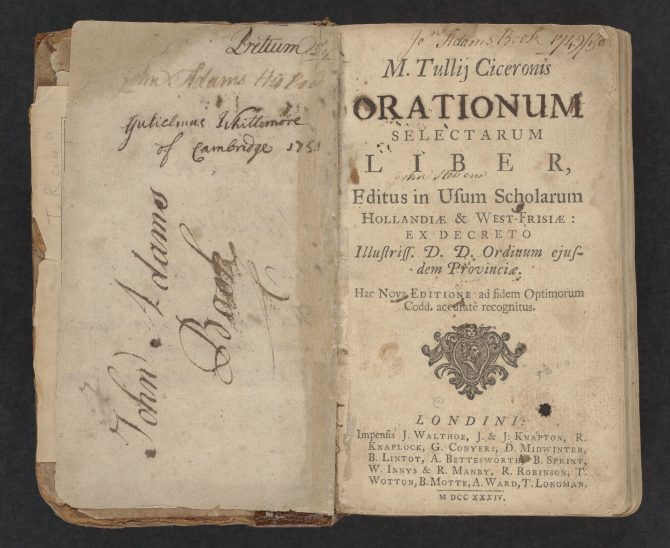 Online access:
The collection has been electronically cataloged and can be retrieved through either of the online catalogs. In the research catalog, opens a new window, use an author search for "Adams, John, 1735-1826, former owner". In the catalog, opens a new window use a title search for "John Adams Library (Boston Public Library)"
With limited exceptions, the John Adams Library collection has been fully digitized and made available online through Internet Archive.
A digitized copy of the 1917 printed catalog is also available.
In addition, LibraryThing has compiled a complete catalog of books known to be owned by John Adams held across institutions. The LibraryThing catalog also includes links to digitized copies and unedited transcriptions of many of Adams's annotations in the "Comments" field.