Future Readers Club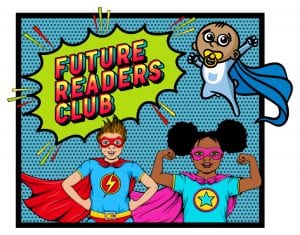 Welcome to the Future Readers Club! The Future Readers Club is for children ages birth to kindergarten and their caregivers, a club to support reading aloud to the very youngest children with a goal of reading 1000 books together before the child begins kindergarten.
BPL's Future Readers Club is modeled after the 1000 Books Before Kindergarten challenge, an initiative developed by The 1000 Books Foundation to help all children be ready to read by the time they enter school.
Join the Club!
Ready to read to your Future Reader? Register now to keep track of the books you read together and earn badges for your reading milestones!
Our Partners
The Future Readers Club is made possible by a gift to the Boston Public Library Fund from a generous anonymous donor. To find out more, go to bplfund.org. Thank you!
MakeMake le ofrece 300 libros electrónicos en español para niños de todas las edades. Ésta colección contiene libros interactivos.
The Boston Public Library partners with Boston Basics on many of our early literacy initiatives, including the Future Readers Club.
When you use new and unusual words with and around your child, you help their brain grow. Incorporate new words through song!
Librarian Elise shares some tips to help your child in retelling a story for comprehension.
Supporting your young child's brain development can feel like an enormous and weighty task. At heart though, it's as easy as A-B-C!