Long-Term Device Lending Program
The Long-Term Device Lending Program helps bridge the digital divide by providing free access to Chromebook laptops and home Internet via home Wi-Fi routers, supported through funding from the Emergency Connectivity Fund. The Boston Public Library also provides free computer and technology classes to help people use computers and the Internet.
UPDATE (9/2/22): There are no more available routers to request, but we still have plenty of Chromebooks. We recommend looking into the  Affordable Connectivity Program  as an alternative for low-cost home internet.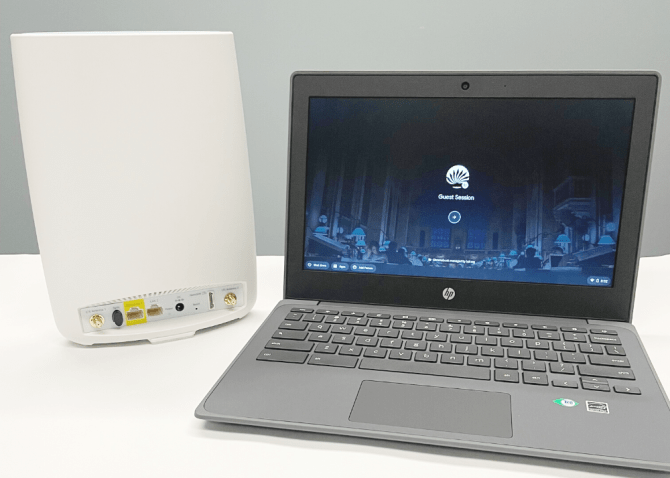 Eligibility FAQs
The Long-Term Device Lending Program is open to any adult resident of the City of Boston. If you do not already have a Boston Public Library card, you can sign up for an electronic library card or "eCard" instantly at BPL.org/ecard.

The Long-Term Device Lending Program is intended for adults living in the City of Boston who do not otherwise have access to equipment or services sufficient to meet their educational needs. Please do not request a device if you already have suitable Internet and/or a computer to enable you to engage in online learning.

Library staff will not decide if you are eligible. You will need to certify that you do not have suitable service or devices to engage in online learning in order to borrow a device.

You may keep lent devices for as long as you need them.

No, this program is for adults. We advise that you contact your child's school, as they may be able to lend a computer for student use.

Yes, if your roommate does not have a suitable computer for online learning, they may also request one. However, they should not request a home Wi-Fi router if you already requested one; They will be able to access the Internet through the home Wi-Fi router provided to you. Only one Wi-Fi router per household will be distributed.
Program FAQs
You can apply with an expired card (if you are requesting the device be shipped to the Boston address listed on your expired library card account) but it's a great idea to renew your library card! You can also sign up for an electronic library card or "eCard" instantly at BPL.org/ecard.

Please allow 4 weeks for delivery of devices. Shipping notification emails for Chromebooks will be sent to you once we get a tracking number from our vendor (provided you included a valid email in your request).

If more than 4 weeks have passed and you haven't received your device(s), please email LongTermDeviceLending@BPL.org (or LTDL@BPL.org) with your library card number and your full shipping address to inquire about the status.

If you no longer have a need for your device, please return your device using the following procedure:

Please pack device(s) and all original accessories in box(es) (or suitable alternative).
Bring the packed device(s) to the nearest Boston Public Library location.
Present the device(s) at the branch Circulation desk or to the Borrower Services desk at Central, asking for a supervisor.
Tell library staff you are returning no longer needed Long-Term Device Lending equipment.

Please note that patrons will not be penalized for any lost or broken equipment so staff will not provide any written confirmation of your return — our inventory management tool will be updated to record the return of your device once it reaches the IT department.
Device FAQs
Power On
If device is not powered on, press the power button in top right corner of the keyboard. 

If the device doesn't turn on, plug it into a nearby outlet with the power cord until charged.

Connect to Wi-Fi
Chromebooks automatically connect to Wi-Fi Routers provided through the Long-Term Device Lending Program, BPL Wi-Fi networks, and BPL Hotspots.
To connect to a different Wi-Fi network:      

Click on the Quick Settings Panel at the bottom right of your screen.
Click on the 'No Network' icon.

Select your Wi-Fi Network.
If needed, enter Wi-Fi password. More Information on connecting to a WiFi network is available on Google's support website.

Log in
Select one of the following to log in:     

BPL Guest Session – No username or password necessary
Add Person – Login with the email account you used when requesting this device (must be a Gmail / Google Workspace account).Children borrowing your device are required to use a guest session or students can login with their Boston Public School account.

If you are currently being blocked from logging in with your personal account, please complete the following form to certify you are an adult and will use the device for lawful purposes: BPL Chromebook Login Request Form

Disclaimer
By using this device, you agree that you will not use it as part of any illegal activities. The library is not responsible for any files, data, or personal information accessed or transmitted using this device.

If your Chromebook does not turn on, try charging it for a couple of hours by connecting it to an electrical outlet with the power cord. In general, keep your Chromebook connected to an outlet to keep it fully charged.

If you are still having a problem, contact Chromebook vendor SHI for assistance at NewEnglandGov@SHI.com or call or 888-744-4084. Indicate that you received the device through Boston Public Library's Long-Term Device Lending Program.

We cannot replace stolen or lost Chromebooks. Please email LongTermDeviceLending@BPL.org / LTDL@BPL.org with your contact information as soon as there is an issue so that the Chromebook associated with your account can be identified and disabled. You will not be charged.

For support using your Netgear Orbi Home Wi-Fi router, contact First Call Wireless via text or telephone at 954-302-3756 or via email at BPLsupport@FirstCallWireless.com

Support is not provided for download / upload speeds, as those vary greatly by location due to cellular network signal strength.

Federal funding rules for this program require that we have web filters in place to be compliant with the Children's Internet Protection Act (CIPA). The web filter is managed by a third party that has determined the site is not be suitable for minors.

If you are currently being blocked from logging in with your personal account, please complete the following form to certify you are an adult and will use the device for lawful purposes: BPL Chromebook Login Request Form

Your Service area, network availability, coverage, and quality may vary based on a number of factors, including network capacity, terrain, weather, or if you are on a private or public Wi-Fi network.  Outages and interruptions in Service may occur, and speed of Service varies.  Devices also have varying speed capabilities and may connect to different networks depending on the technology. Even with coverage areas and with broadband-capable devices, network changes, traffic volumes, outages, technical limitations, signal strength, obstructions, weather, public safety needs, and other conditions may impact speeds and Service availability.

For your 1st level of support, please text 954.302.3756 (M-F, 9 am-5 pm) with the 4 numbers after the letters "BPL" from the sticker above the QR Code on the front of your Orbi router. If they are unable to resolve the issue, please ask for your SIM card phone number and call T-Mobile's Government Support Number 844.341.4834 with that information handy.

Your wireless data speeds may vary and change without notice depending on a variety of factors. Generally, if you use over 50GB of data (lots of streaming videos, downloading large files, etc.) in your billing cycle you are considered a heavy user by the wireless provider (T-Mobile) and they could prioritize your data usage below that of other customers to allow everyone fair access to the network.  This would mean that your wireless data speeds could be slower than they were earlier in your billing cycle. This threshold is reset at the beginning of your next billing cycle, which is generally the last day of each month.