Teen Music Maker Showdown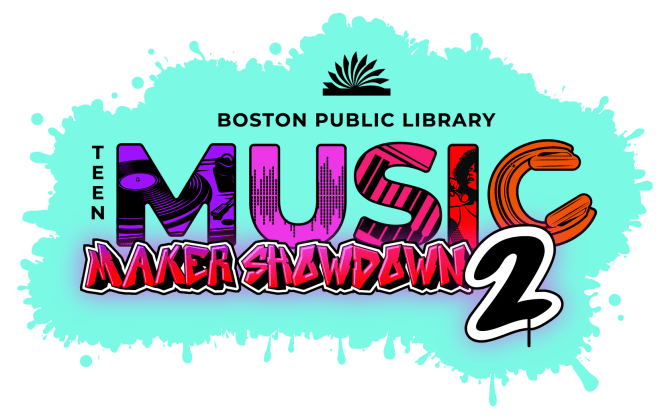 Calling all Massachusetts teen musicians! Compete for prizes and fame in the BPL's 2nd Annual Teen Music Maker Showdown! Submissions opened May 3, 2022.
To enter, submit a file of your own original music via this page by midnight on Friday, June 10, 2022. Your submission will be judged by a group of Boston-area professionals, music producers, and musicians who will decide who comes out on top!
All contributing artists will be honored at an online Awards Celebration. The top 10 will be awarded a songwriting commission from the BPL: a paid opportunity to create another original track for the library over the summer months.
Our top artists will additionally win professional recording studio time, prizes, and gift cards totaling over $7,500, with our grand prize winner also taking home a $1000 Visa gift card!
For teen music makers looking for guidance and support, BPL is offering a series of drop-in workshops on Fridays in May and June with a professional music producer. Starting May 10, teens may also record their music in person at BPL's Grove Hall, Lower Mills, Roslindale, and Roxbury branch locations using our ultra-portable music studios!
Questions? Email musicmaker@bpl.org or call Chris Jacobs at 617-859-2215.
Contest Submission Guidelines
Participation is limited to teens between the ages of 13 and 18 who are current residents of Massachusetts.
Each artist or group may submit a maximum of one contest entry.
All musical content must be the submitter's own original work. In the event that a submission contain material subject to another individual's or entity's copyright (for example, sampling, or cover songs), the BPL reserves the right to disqualify the submission.
All genres are welcome; vocals are optional. Use of profanity, sexually explicit, violent, or discriminatory language may be grounds for disqualification.
Each track must be between 2-7 minutes in length.
Your single submission may be uploaded below, or attached to an email message to musicmaker@bpl.org. In either case, your attachment's file size must be less than 30MB (.mp3 or .m4a file types are preferred). Links to musical content will not be considered valid submissions unless linked content can be readily and freely downloaded. If emailing, your message should use the subject line "MUSIC MAKER SHOWDOWN" and contain the creator's 1) Full name, 2) Full address, 3) Song name, and 4) Artist name.
All submissions will receive confirmation when their track has been successfully accepted. Teen artists are also encouraged to use the musicmaker@bpl.org mailbox for general questions about the contest.
Winning tracks will be integrated into BPLts Twitch streams & BPL Teens YouTube videos at BPL's discretion. By submitting, artists are granting BY-SA licensee status with attribution to the Boston Public Library. We encourage all participants to review the definition of the BY-SA copyright license.
Contest runs from Tuesday, May 3 at 4 pm ET to midnight ET on Friday, June 10.