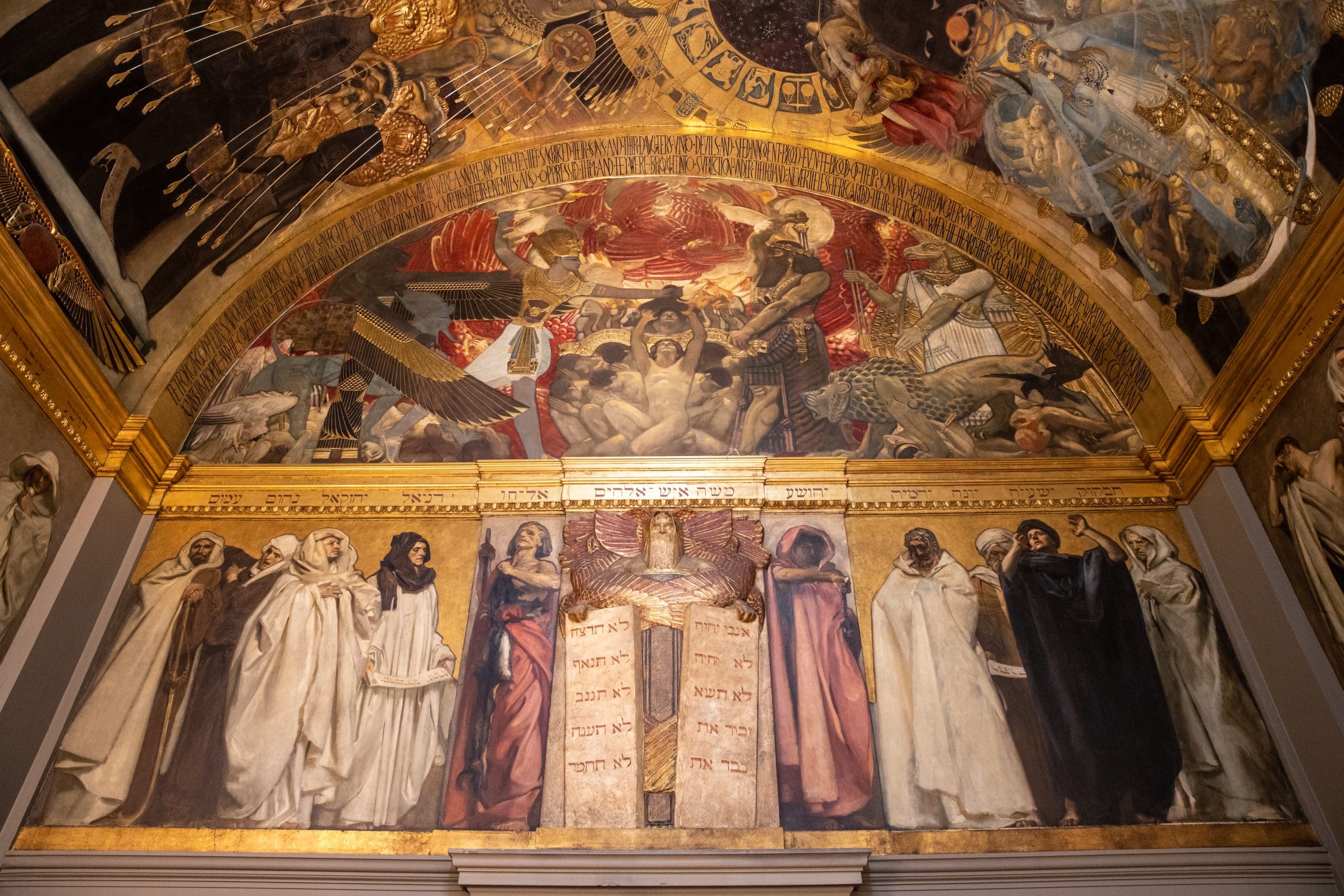 May 4, 2022 – BOSTON, MA –
 The Boston Public Library today announced the
 Sargent Lecture Series: New Interpretations of Sargent's Murals at BPL

, opens a new window
. The library is gathering a group of conservators, historians, curators, and authors to revisit this significant project in Sargent's life and to offer fresh perspectives on Sargent's groundbreaking mural cycle, installed in phases between 1895 and 1919. The talks will make connections across local and international collections and resources to promote further study and discussion of Sargent's library works. All lectures will be held virtually via Zoom, and a projection onto the space reserved for Sargent's final—and unrealized—panel in Sargent Hall will be on view from May 9  - June 30. 
"Boston Public Library is thrilled to bring together such an experienced and engaging group of speakers and panelists to illuminate John Singer Sargent's murals on view in the 1895 McKim Building," said Meg Weeks, BPL Curator of Interpretation. "This work spanned the better part of three decades of this beloved artist's life, and we hope that more patrons—near and far—will be able to experience this fascinating progression of paintings and the resources that support our interpretation of their imagery and history. Because this series is online, it has the potential to reach a broad audience; we want the public to know that these remarkable works are freely available for the enjoyment of all visitors – both in-person and virtually."  
John Singer Sargent's mural cycle at the Central Library in Copley Square, entitled Triumph of Religion, spanned twenty-nine years of the prolific artist's career between 1890 and 1919. The murals incorporate a range of moments and iconography from early Egyptian and Assyrian belief systems, Judaism, and Christianity. Sargent's choice of themes was not without controversy; in fact, this year marks the centenary of the (later struck down) 1922 Massachusetts legislative bills to remove a contentious portion of the mural titled Synagogue. The BPL hopes to bring this history and the powerful public response to the murals to light, and to explore what it means to interpret public art—especially that which is controversial—in the 21st century. 
Following the BPL Lecture Series that will provide new interpretations of the murals, an online panel will convene to discuss the Synagogue controversy and how open discourse around interpreting potentially offensive public art can aid in our interpretation and stewardship of these works. Registration details will be available shortly.    
Monday, May 9th, 6:00pm EST 
Speaker: BPL's Curator of Interpretation, Meghan Weeks 
Join us for an exploration of John Singer Sargent's Triumph of Religion mural cycle at the Boston Public Library. This introductory lecture will examine the evolution of the project over three decades between 1890 and 1919 and offer fresh insights into the visual qualities of these masterful murals on public display. 
Tuesday, May 10th, 6:00pm EST 
Speakers: Conservators in the 2003-2004 mural campaign, Gianfranco Pocobene and Kate Smith 
In 2003-2004, the Straus Center for Conservation undertook the comprehensive conservation and restoration of the Sargent murals, which also included in-depth technical analysis of the artist's painting techniques. This talk will focus on some of the more complex treatment issues that conservators faced during the fifteen-month project.
Monday, May 16th, 6:00pm EST 
Speaker: Art Historian and Author, Mollie Crawford-Volk 
After thirteen years' absence, Sargent arrived in Boston on April 7, 1916 to install a third contribution to his Boston Public Library project. Anticipation in the city was keen, and it was not disappointed: Sargent's installation was nothing short of transformative for the project. Far exceeding the terms of his contract, it furnished Sargent Hall with a visually exciting ensemble that extended across all four walls and was crowned by a sumptuous ornamental scheme covering the entire ceiling. This talk will closely examine this transformation, and consider the opportunities it created for Sargent, and for Boston. 
Wednesday, May 18th, 11:00am EST 
Sargent's mural panel Madonna of Sorrows, installed in 1916, was the culmination of over twenty years of research into Spanish religious iconography for the Boston Library murals. The painter's fascination with the spiritual power and rich materiality of Spanish art led him to amass a significant collection of photographs of sculptures, which has only recently been rediscovered in the Victoria & Albert Museum in London. The lecture explores the significance of these and other sources for interpreting the murals' meanings. 
Monday, May 23rd, 11:00am EST 
With the installations of Sargent's Church and Synagogue panels as dark medieval allegories, the artist made an ironic testament: there is no triumph here. Encoded within those panels and their symbolic iconography, viewers find a solemn and universal war memorial and a personal elegy for the victims of the Great War whose loss most touched the artist. This talk will explore the imagery of these panels, and their connection to Sargent's family and World War I. 
A Panel Discussion of the mural's controversial history will follow in late May; details forthcoming. 
Images available upon request at news@bpl.org