Carol Fulp

Carol Fulp is President and CEO of The Partnership, Inc., New England's premier organization dedicated to enhancing the competitiveness of the region by attracting, training, retaining and convening professionals of color.
Prior to her appointment to The Partnership, Fulp was the Senior Vice President of Corporate Responsibility and Brand Initiatives at John Hancock Financial. Previously, Fulp was the Director of Community Programming and Human Resources for WCVB-TV and she also served as the Corporate Employee Relations Manager for the Gillette Company.
Fulp also serves on the Board of Trustees for Eastern Bank and as well as the Board of Directors for American Student Assistance Corporation where she is the marketing committee chair. Her civic boards include the Women's Leadership Board of the Harvard Kennedy School and she is a trustee of the John F. Kennedy Presidential Library Foundation, where she co-chaired the Profile in Courage Awards Dinner. In addition, she is on the board of Citizen's United for Research in Epilepsy (CURE) and is a founding co-chair of the Massachusetts Conference for Women.
She is the recipient of many honors including the Greater Boston Chamber of Commerce Pinnacle Award, Museum of Afro-American History's Living Legend Award, Anti-Defamation League's Women of Valor Award, Massachusetts Democratic Party's Eleanor Roosevelt Award, Boston Barr Foundation's Public Service Award, Manulife Corporation's Global Citizen Award, United Nations of Greater Boston Global Leaders Award, and South African Partners Corporate Citizen Award. Boston Business Journal listed Fulp as one of the "50 Most Influential Bostonians" and Boston Magazine listed her as one of the "50 Most Powerful Women in Boston".
Fulp is a graduate of the University of the State of New York. She is a recipient of an honorary doctorate degree of law from New England Law Boston and a honorary doctorate degree from Salem State University. She is married to C. Bernard Fulp, Chairman of Go-Biz Solutions and Founder of Middlesex Bank & Trust Company. They reside in Boston.
Dennis Lehane
Dennis Lehane grew up in Boston. Since his first novel, A Drink Before the War, won the Shamus Award, he has published eight more novels with William Morrow & Co. that have been translated into more than 30 languages and become international bestsellers: Darkness, Take My Hand; Sacred; Gone, Baby, Gone; Prayers for Rain; Mystic River; Shutter Island; The Given Day; Moonlight Mile; and Live by Night. Morrow also published Coronado, a collection of five stories and the play, Coronado, which has received stage productions in New York City; Chicago; San Francisco; and Genoa, Italy. Three of Mr. Lehane's novels – Mystic River; Gone, Baby, Gone; and Shutter Island – have been adapted into award-winning films. Mr. Lehane and his wife, Angie, divide their time between the West Coast of Florida and Boston.
Laura DeBonis
Laura DeBonis is a member of the founding Board of Directors for the Digital Public Library of America and serves as the organization's Secretary. In the past, she chaired the Technology Advisory Board of the Internet Safety Technical Task Force at Harvard's Berkman Center. She served in a variety of management roles at Google, most recently as the Director of Library Partnerships for Google Book Search. Her previous professional work includes web strategy consulting and production for documentary films and multimedia. She is a graduate of Harvard College and has a MBA from Harvard Business School.
Paul La Camera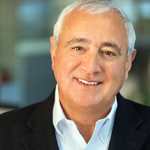 Paul La Camera is University Administrator for Public Radio at Boston University, after serving five years as General Manager of WBUR, which is licensed to the university. WBUR-FM is Boston's NPR news station and one of the nation's premier National Public Radio affiliates. Several programs that air on NPR stations across the country are produced at the WBUR studios on the Boston University campus, including On Point with Tom Ashbrook; Here and Now with Robin Young; Only a Game with Bill Littlefield; and Car Talk with the inimitable Tappet Brothers, Click and Clack.
Previously La Camera served for more than thirty-three years at WCVB-TV, Boston's ABC affiliate, including twelve years as President and General Manager. WCVB is Boston's leading local station and is widely considered to be among America's best commercial television stations. La Camera hails from a family steeped in media. For thirty years, his late father Anthony La Camera was the distinguished dean of American television critics, writing for the Hearst-owned Boston newspapers.
Prior to joining WCVB, Paul La Camera was Director of Communications for the Greater Boston Chamber of Commerce and worked as a reporter for the Boston Record American and Sunday Advertiser.
Among his television industry activities, La Camera served on the White House Advisory Committee (Gore Commission) on Public Interest Obligations of Digital Television Broadcasters. He has testified on local television issues before both the Federal Communications Commission (FCC) and the U.S. House Telecommunications Subcommittee.
La Camera is a graduate of the College of the Holy Cross, where he previously served as a trustee of the college. He has three master's degrees: masters in journalism and urban studies from Boston University, and an MBA from Boston College. He was honored in 1992 as a distinguished alumnus of BU's College of Communications and in 2000 with the Sanctae Crucis Alumnus Award from his college alma mater. La Camera has received honorary doctorate degrees from the University of Massachusetts (Medical School) and from Boston's Emmanuel College.