The Census is a great starting point for searching for information about your ancestors. The Census publicly releases individual records after 72 years. The results from the 1950 Census should become available in 2022, and all previous individual Census data is available. Depending on the year, the Census can contain information about a person's education level, marital status, occupation, languages spoken, children, and more. 
Fortunately, researching your family history with the Census can be done from home! Here is a quick primer on how to access U.S. Census records from home and how to use them for genealogy-related research.
Searching For Your Ancestor in Census Records
Searching by name and location (State and/or City) is the easiest way to go
Locations are really useful when the person had a common name
Keep in mind any possible name variations and try them if there are no results at first
Don't put too much information in the search boxes, this can backfire and bring back either very few or zero results
If you're not finding who you're looking for, try searching for the name of someone you think they were living with, such as a spouse or a child
What You Can Learn from Census Records
This can change depending on the year. Let's take a look at the 1910 Census Record for John F. Fitzgerald of Boston as an example of what we can learn about a person from the Census:

(Click here to see the full-size image and here to see a partial transcription.)
What Does This Record Tell Us About John F. Fitzgerald in 1910?
He lived at 39 Welles Avenue
He was 47 years old and was born in Massachusetts
Both of his parents were born in Ireland
He spoke English as his primary language
He worked as Mayor for the City of Boston
He had been married to his present wife, Mary J. Fitzgerald, for 20 years
His wife was 44 and born in Massachusetts
He had three daughters (Rose, Mary Agnes, & Eunice) and two sons (Thomas & John Jr.) ranging in age from 5-19 years old, all were born in Massachusetts
He had two servants, Katherine Coffee (age 29) & Mary Downey (age 25), both were from Ireland
What Conclusions Can We Draw from This Information?
He was born around 1863
He was married around 1890
His wife was born around 1876
His children were born from about 1891 to about 1905
He was wealthy enough to have two live-in servants
What Can We Do with This Information?
Now that we have the names, approximate birth years, and the state in which he and his children were born, we can try to find birth records for all of them. We can also try to find his marriage record, and possibly a wedding announcement, now that we know about when he was married and what his wife's first name is.
Conclusion
This is just one record from one person's life. Looking at every available Census record for someone could uncover even more information about them, and give you a picture of what their lives were like.
Where to Find Census Records Online
Ancestry.com
The database Ancestry Library Edition is available to use from home with a Boston Public Library card or eCard while the BPL is closed due to the COVID-19 outbreak.
Once you've logged in, look for the US Census Records square in the lower right corner. Click on All>> or the year you want to search.
For more help using Ancestry Library Edition, check out the Ancestry.com section of the BPL's genealogy research guide.
HeritageQuest
The database HeritageQuest Online is available to use from home with a BPL card or eCard.
Once you've logged in, look for the US Census Records square on the right side. Click on All>> or the year you want to search.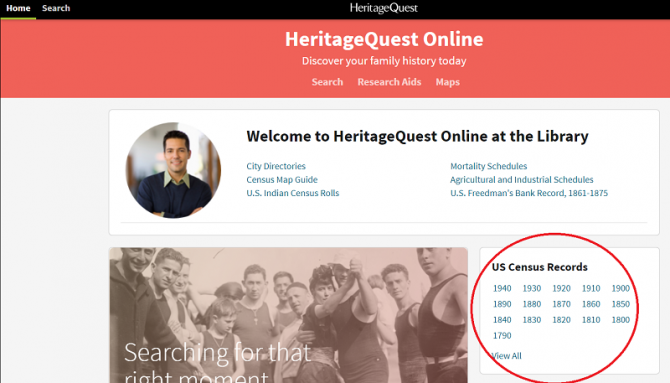 FamilySearch.org
FamilySearch.org is a website that requires users to register for a free account.
Once you've registered and/or signed in, click on Search at the top of the page. Then click on Records. Once you're on the search page, scroll down to Restrict Records By, click on Type, and select Census, Residence, and Lists.
Check out their Help section for more information about using the site.
For More Information
Check out the Federal Census section of the BPL's Genealogy research guide to learn more about the Census.
Additional Resources