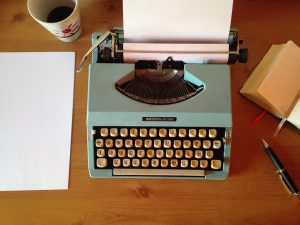 Have you ever thought of writing a novel? Or maybe you're participating in National Novel Writing Month this November? Whether you've written something before, or you're new to writing fiction, the Learn To Write Fiction Beginner Course is for you!
This is an 8-week Learning Circle which covers all the elements you need for a successful novel: genres, character development, setting/basic world-building, plot & structure, description, dialogue & action, as well as revision & self-editing.
What's a Learning Circle, you ask? Peer 2 Peer University is a non-profit organization that has developed a model for online and offline learning called Learning Circles. They are lightly-facilitated study groups for people who want to take free online courses, together and in-person, ensuring that more students finish the courses they start.
What that means for this course, is that you will read several online articles a week and work on your writing at home according to each week's topic. Then you will meet with your classmates and a facilitator once a week at the library to discuss your work, collaborate, ask questions, and get help.
Because seating is limited, registration is required.  However, registration may close early if we reach capacity ahead of September, so if you are sure you can make it to all 8 classes and are interested, don't delay in registering! (REGISTRATION HAS CLOSED due to high demand!)
Does this sound like something you're interested in? Here are the dates, times, and the registration link:
Learn To Write Fiction Beginner Course
Thursdays, September 6th through October 25th, 10:30am – 12:30pm
Community Learning Center at the Central Library of the Boston Public Library
700 Boylston St. Boston, MA 02116
PLEASE REGISTER HERE
REGISTRATION HAS CLOSED