Central Library: Community Learning Center
Boylston Street Building, Second Floor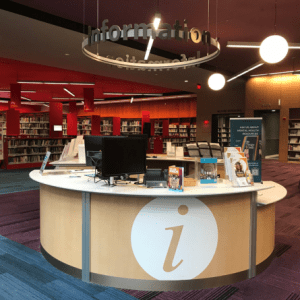 The Community Learning Center includes seating for small-group tutoring, three conference rooms for conversation circles, adult literacy programs, and other collaborative work, an updated public computer classroom, and library collections including world languages and literacy. In addition, our Immigrant Information Corner is located in the Community Learning Center and provides information about resources and services available to help advance the well-being of the city's immigrant residents. Visitors can speak to a staff member at the Community Learning Center for information about adult and digital literacy resources at the Library and around the city. The Community Learning Center is located on the Second Floor of the Boylston Street Building.
The current service hours of the Community Learning Center are:
Monday: 10:00 am – 8:00 pm
Tuesday: 10:00 am – 8:00 pm
Wednesday: 10:00 am – 8:00 pm
Thursday: 10:00 am – 8:00 pm
Friday: 9:00 am – 5:00 pm
Saturday: 9:00 am – 5:00 pm
Sunday: 11:00 am – 5:00 pm
For assistance during hours the Community Learning Center is closed, please email Community Learning Supervisor Jessica Elias at jelias@bpl.org.