Central Library: New & Novel
Boylston Street Building, First Floor
---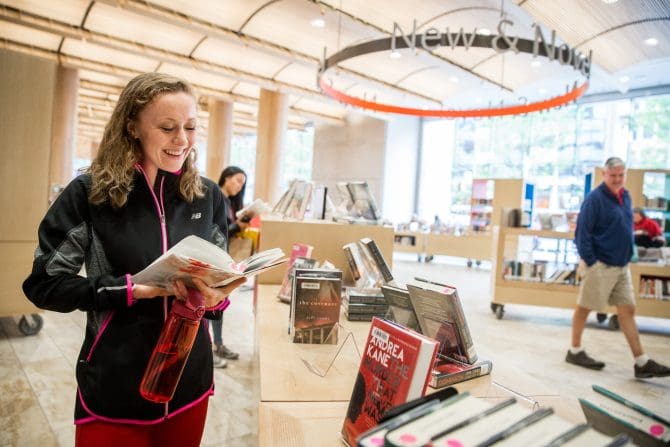 New & Novel is the spot in the Central Library in Copley Square to:
Browse the Boston Public Library's collection of new adult fiction and nonfiction books
Read a current magazine
Get 'Lucky' by checking out a title from the BPL's Lucky Day Collection, our curated collection of popular and bestselling titles available for immediate checkout
Chat with a librarian for reading recommendations
Ask for help with accessing the BPL's downloadable and streaming collections for eBooks, eAudiobooks, and music, and videos. Unable to visit us in person? Check out our Online Resources FAQs for answers to common questions about OverDrive, Hoopla, Kanoy, Flipster, and more.
If you are unable to visit New & Novel in person, you can still request a personalized reading list from one of the BPL's reader services librarians online via Shelf Service.
Sep 25th | 6:00pm - 7:00pm

Online Event

Sep 25th | 7:00pm - 8:00pm

Online Event

Sep 27th | 2:30pm - 3:30pm

Online Event
Sep 27th | 3:00pm - 4:00pm

Online Event

Oct 4th | 3:00pm - 4:00pm

Online Event

Oct 11th | 3:00pm - 4:00pm

Online Event
Something wicked this way comes: It's the debut of Haunted Hardbacks, a horror blog! In this post we feature horror books under 200 pages.
This month: Bad gays biographies, a nonbinary teen solving a murder, and a lesbian vampire getting revenge on her creator.
This month we have a non-binary student experiencing homelessness and romance, a discussion about incarceration and the Jim Crow era, and...
Every year our librarians compile booklists that celebrate the diversity of our world. Check out a title today!
Fall in New England is the perfect time for fresh apples. Read about the fruit and cook something with them after a day of apple picking.
As the protagonists in these stories show, substance abuse affects more than just the individual. But help and healing is possible.